Helaas zijn wij genoodzaakt u te informeren met betrekking tot een terugroepactie en inspectie oproep van het merk Rock Exotica.
Lees hier de mededeling >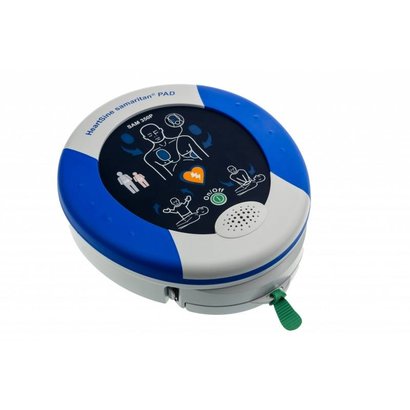 Heartsine
Heartsine Samaritan PAD 350p AED
HSINE-11.111
The samaritan® PAD 350P is indicated for
use on patients greater than 8 years old or over 55 lbs (25 kg) when used with the
adult samaritan® Pad-Pak (Pad-Pak-01 or Pad-Pak-07). ...
More information
Contact opnemen
Product description
The samaritan® PAD 350P is indicated for use on children between 1 and 8 years of age or up to 55 lbs (25 kg) when used with the samaritan® PediatricPak (Pad-Pak-02).
The SAM 350P is a semi-automatic external defibrillator designed to quickly deliver a defibrillation shock to victims of sudden cardiac arrest (SCA). The SAM 350P is designed to operate in accordance with the joint European Resuscitation Council (ERC) and American Heart Association (AHA) 2010 guidelines on Cardiopulmonary Resuscitation (CPR) and Emergency Cardiovascular Care (ECC).