Helaas zijn wij genoodzaakt u te informeren met betrekking tot een terugroepactie en inspectie oproep van het merk Rock Exotica.
Lees hier de mededeling >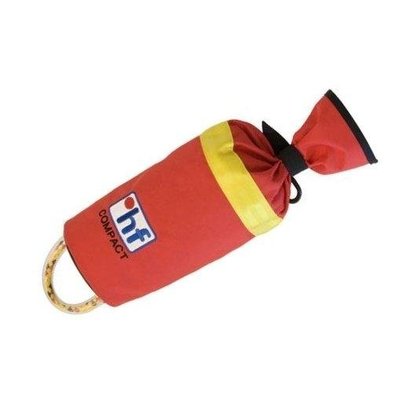 Product description
Brand:

HF

Article number:

HF-C-20
The Compact Classic is the ideal rescue equipment for every canoeist. It should always be in the boat, no matter if paddling on whitewater or touring.
The rescuer is land-based and holds one end of the rope, the bag is thrown towards the swimmer who grabs it and can be pulled towards the bank quickly.
The bag is made from grippy and hardwearing nylon, has built-in flotation on the bottom and a D-ring for attachment. The grab loop at the bottom is easy to grab and padded with hose.
The Compact has been the standard throwbag for almost 20 years, now the bag opening has been increased allowing for easier refill and more accurate throws. Also new is the wide, bright yellow signal tape. Because of its obvious red- yellow colour combination the Compact is very easy to see and is also recognised by untrained people as a rescue tool.