Door de uitzonderlijke omstandigheden vanwege Corona, kunnen levertijden oplopen of artikelen tot nader orde niet leverbaar zijn.
Neem gerust contact met ons op om de mogelijkheden te bespreken.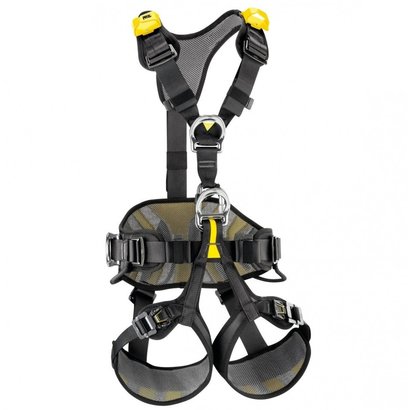 Petzl
AVAO® BOD FAST international version
PTZL-C071DA00
€356,95
Incl. VAT
€295,00
Excl. VAT
Delivery time:

On request
Comfortabele antival-, werkpositionerings- en ophangingsgordel. ...
More information
Product description
Brand:

Petzl

Article number:

PTZL-C071DA00

Delivery time:

On request
Description: 
The AVAO BOD FAST fall arrest, work positioning and suspension harness is designed for greater comfort in all situations. The X-shaped dorsal construction wraps to reduce pressure points during prolonged suspension. The harness also facilitates carrying and organizing work tools, with multiple equipment loops and retainers for attaching CARITOOL tool holders and TOOLBAG tool-holder pouches. The AVAO BOD FAST harness has a specific construction that allows the user to hang from the dorsal attachment point for a longer time in case of a fall. The harness has an integrated fall indicator on the dorsal attachment point and is fastened with a TRIACT-LOCK automatic locking carabiner. It is certified to North American and European standards. AVAO BOD FAST features leg loops with FAST automatic buckles.
Detailed description
Description
Designed for comfort in any situation:
- X-shaped dorsal construction wraps to reduce pressure points during prolonged suspension
- semi-rigid, wide waistbelt and leg loops for excellent support; sculpted and lined with breathable perforated foam for comfort during suspension
- foam shoulder straps are widely spaced to reduce neck chafing; when the waistbelt is loaded, they help distribute this load over the shoulders
Practical adjustment:
- waistbelt and shoulder straps equipped with self-locking DoubleBack buckles for quick and easy adjustment
- leg loops equipped with FAST buckles for quick and easy opening and fastening without the need to readjust them, even while wearing gloves
- fold-away side attachment points prevent accidental snagging
Facilitates carrying and organization of tools:
- six pre-shaped equipment loops with protective sheath
- four CARITOOL tool holder retainers
- two slots for TOOLBAG tool pouch
Less traumatizing post-fall position:
- in case of a fall on the dorsal attachment point, the load is distributed over the leg loops, allowing the user to remain suspended longer while awaiting rescue
Has a fall indicator: a red strap appears on the dorsal attachment point after a fall to indicate that the harness should be retired
Specifications
Ventral attachment point: attachment for a descender or a positioning lanyard for use in single mode
Lateral attachment points: attachment for a positioning lanyard for use in double mode
Sternal attachment point: fall arrest system attachment
Dorsal attachment point: fall arrest system attachment
Rear attachment point on the waistbelt: restraint lanyard attachment
Certification(s): ANSI Z359.11, NFPA 1983 classe III, CSA Z259.10, CE EN 361, CE EN 358, CE EN 813References
| References | C71AFA 0U | C71AFA 1U | C71AFA 2U | C71AFN 0U | C71AFN 1U | C71AFN 2U |
| --- | --- | --- | --- | --- | --- | --- |
| Color(s) | black/yellow | black/yellow | black/yellow | black | black | black |
| Size | 0 | 1 | 2 | 0 | 1 | 2 |
| Waist belt | 60-90 cm | 70-110 cm | 80-130 cm | 60-90 cm | 70-110 cm | 80-130 cm |
| Leg loops | 45-65 cm | 45-65 cm | 60-75 cm | 45-65 cm | 45-65 cm | 60-75 cm |
| Stature | 160-180 cm | 165-185 cm | 175-200 cm | 160-180 cm | 165-185 cm | 175-200 cm |
| Weight | 2145 g | 2190 g | 2270 g | 2145 g | 2190 g | 2270 g |
| Guarantee | 3 years | 3 years | 3 years | 3 years | 3 years | 3 years |
| Packing | 1 | 1 | 1 | 1 | 1 | 1 |