Door de uitzonderlijke omstandigheden vanwege Corona, kunnen levertijden oplopen of artikelen tot nader orde niet leverbaar zijn.
Neem gerust contact met ons op om de mogelijkheden te bespreken.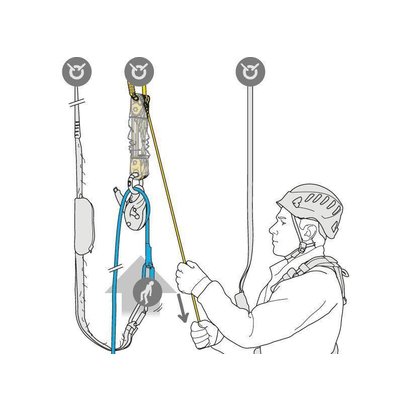 Petzl
Jag rescue kit
PTZL-K090AA00
€605,00
Incl. VAT
€500,00
Excl. VAT
Delivery time:

On request
Reversible rescue kit
The JAG RESCUE KIT is a ready-to-use reversible rescue kit designed to easily pick off and lower a victim. It contains a JAG SYSTEM haul kit, a RING OPEN gated ring, an I'D S descender, a CONNEXION FIXE 150 cm anchor strap, a BUCK… ...
More information
Product description
Brand:

Petzl

Article number:

PTZL-K090AA00

Delivery time:

On request
Detailed description
Description
Designed to easily pick off and lower a victim:
- pick-off with the JAG SYSTEM haul kit, whose 4:1 mechanical advantage and excellent sheave efficiency allow the user effort to be divided by 4 when raising a victim in order to release him
- evacuation with the I'D S descender, whose ergonomic handle allows the user to easily control the rope's running speed during evacuation. Anti-panic function activates if the user pulls too hard on the handle, which brakes and stops the descent automatically
Always ready to use for quick intervention:
- JAG SYSTEM equipped with flexible cover that prevents any risk of tangling
- rope is pre-installed in the RING OPEN gated ring to allow better control of the descent and provide a system that dœs not easily come apart
- BUCKET bag for transporting the kit
- kit comes loaded and ready to use
Available in three rope length versions: 30, 60 and 120 meters
Rescue kit contents:
- a JAG SYSTEM haul kit
- a RING OPEN gated ring
- an I'D S descender
- an AXIS 11 mm rope with two sewn terminations
- a CONNEXION FIXE 150 cm anchor strap
- a BUCKET 25 liter bag for the 30 and 60 meter versions, and a 35 liter bag for the 120 meter version
Specifications
Maximum working load: 2 kN
Material(s): aluminum, steel, nylon, polyurethane, polyester
References
| References | K90030 | K90060 | K90120 |
| --- | --- | --- | --- |
| Length | 30 m | 60 m | 120 m |
| Weight | 4300 g | 6600 g | 11300 g |
| Guarantee | 3 years | 3 years | 3 years |
| Packing | 1 | 1 | 1 |