Door de uitzonderlijke omstandigheden vanwege Corona, kunnen levertijden oplopen of artikelen tot nader orde niet leverbaar zijn.
Neem gerust contact met ons op om de mogelijkheden te bespreken.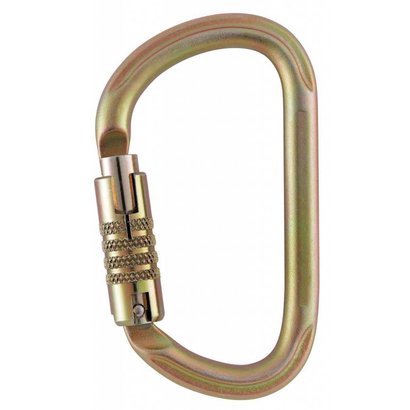 Petzl
Vulcan
PTZL-M073-AA00
€24,08
Incl. VAT
€19,90
Excl. VAT
Delivery time:

1-2 werkdagen
High-strength asymmetric carabiner with large capacity
VULCAN is a high-strength steel carabiner designed for use in difficult environments. The large-capacity asymmetrical shape is ideal for setting multiple anchors. The VULCAN carabiner is available … ...
More information
Product description
Brand:

Petzl

Article number:

PTZL-M073-AA00

In stock

Delivery time:

1-2 werkdagen
Detailed description
Description
Steel suitable for harsh conditions
Large size for easy attachment of multiple items
Large opening for connection to thick anchors
Keylock system helps prevent the carabiner snagging during maneuvers
Red indicator provides a visual warning when the carabiner is unlocked (on SCREW-LOCK version)
Two locking systems available:
- SCREW-LOCK: the manual screw-lock with red band provides a visual warning when the carabiner is unlocked
- TRIACT-LOCK: automatic locking with triple-action gate opening
Specifications
References
| References | M73 TL | M73 SL | M73 TLA | M73 TLN | M73 SLN |
| --- | --- | --- | --- | --- | --- |
| Locking system | TRIACT-LOCK | SCREW-LOCK | TRIACT-LOCK | TRIACT-LOCK | SCREW-LOCK |
| Certification(s) | CE EN 362, NFPA 1983 General Use, EAC | CE EN 362, NFPA 1983 General Use, EAC | CE EN 362, ANSI Z359.1, NFPA 1983 General Use, CSA Z259.12, EAC | CE EN 362, ANSI Z359.1, NFPA 1983 General Use, CSA Z259.12, EAC | CE EN 362, NFPA 1983 General Use, EAC |
| Color(s) | gold | gold | gold | black | black |
| Major axis strength | 40 kN | 40 kN | 40 kN | 40 kN | 40 kN |
| Minor axis strength | 16 kN | 16 kN | 16 kN | 16 kN | 16 kN |
| Open gate strength | 11 kN | 11 kN | 11 kN | 11 kN | 11 kN |
| Gate opening | 28 mm | 29 mm | 27 mm | 27 mm | 29 mm |
| Weight | 285 g | 265 g | 305 g | 305 g | 265 g |
| Guarantee | 3 years | 3 years | 3 years | 3 years | 3 years |
| Packing | 1 | 1 | 1 | 1 | 1 |